Wendy J Levy Contemporary Art, Manchester
Solo show 17th May - 7th June 2008
12 paintings shown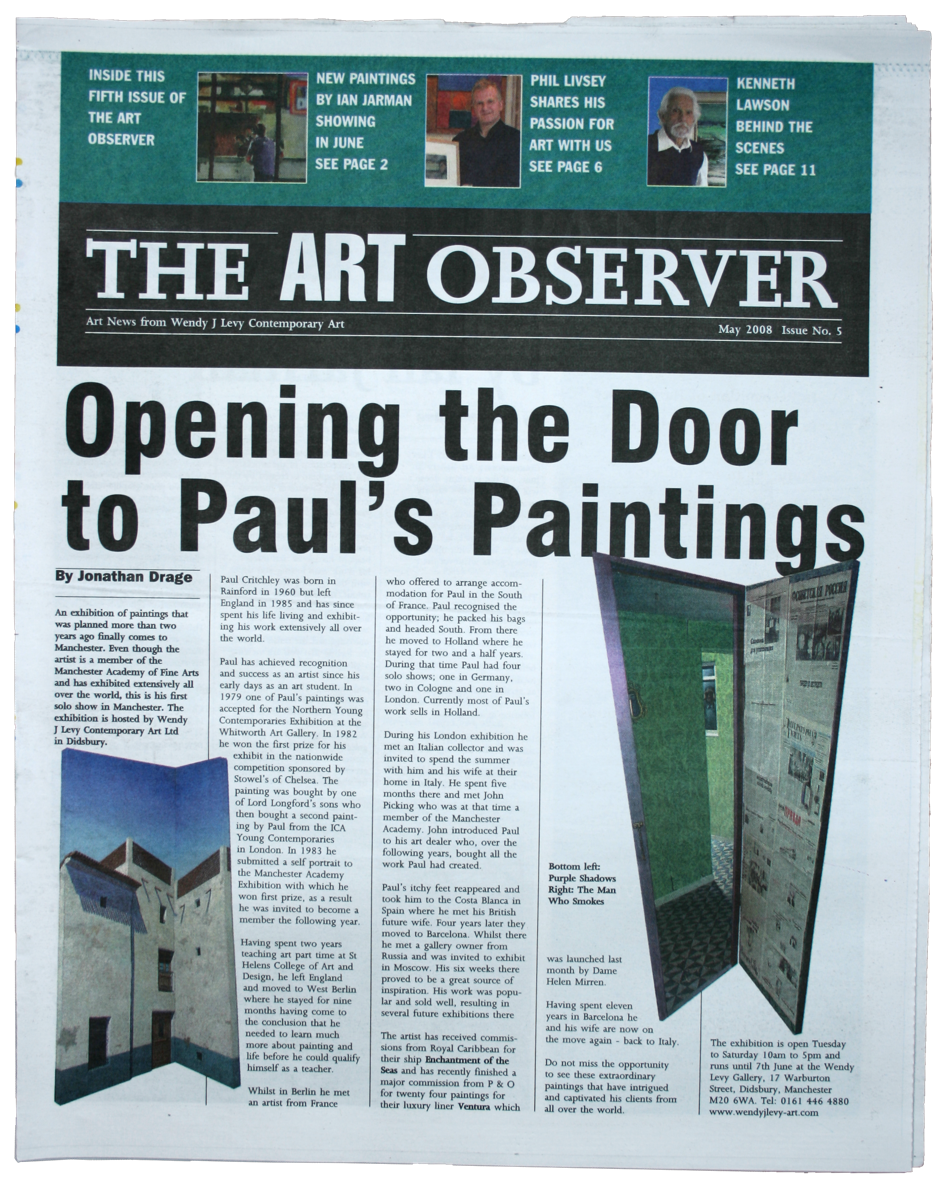 Opening the Door to Paul's Paintings
Jonathan Drage




An exhibition of paintings that was planned more than two years ago finally comes to Manchester. Even though the artist is a member of the Manchester Academy of Fine Arts and has exhibited extensively all over the world, this is his first solo show in Manchester. The exhibition is hosted by Wendy J Levy Contemporary Art Ltd in Didsbury. 


Paul Critchley was born in Rainford in 1960 but left England in 1985 and has since spent his life living and exhibiting his work extensively all over the world. 


Paul has achieved recognition and success as an artist since his early days as an art student. In1979 one of Paul's paintings was accepted for the Northern Young Contemporaries Exhibition at the Whitworth Art Gallery. In 1982 he won the first prize for his exhibit in the nationwide competition sponsored by Stowell's of Chelsea. The painting was bought by one of Lord Longford's sons who then bought a second painting by Paul from the ICA Young Contemporaries in London. In 1983 he submitted a self portrait to the Manchester Academy Exhibition with which he won first prize, as a result he was invited to become a member the following year. 


Having spent two years teaching art part time at St Helens College of Art and Design, he left England and moved to West Berlin where he stayed for nine months having come to the conclusion that he needed to learn much more about painting and life before he could qualify himself as a teacher. 


Whilst in Berlin he met an artist from France who offered to arrange accommodation for Paul in the South of France. Paul recognised the opportunity; he packed his bags and headed South. From there he moved to Holland where he stayed for two and a half years. During that time Paul had four solo shows; one in Germany, two in Cologne and one in London. Currently most of Paul's work sells in Holland. 


During his London exhibition he met an Italian collector and was invited to spend the summer with him and his wife at their home in Italy. He spent five months there and met John Picking who was at that time a member of the Manchester Academy. John introduced Paul to his art dealer who, over the following years, bought all the work Paul had created. 


Paul's itchy feet reappeared and took him to the Costa Blanca in Spain where he met his British future wife. Four years later they moved to Barcelona. Whilst there he met a gallery owner from Russia and was invited to exhibit in Moscow. His six weeks there proved to be a great source of inspiration. His work was popular and sold well, resulting in several future exhibitions there. 


The artist has received commissions from Royal Caribbean for their ship Enchantment of the Seas and has recently finished a major commission from P & O for twenty four paintings for their luxury liner Ventura which was launched last month by Dame Helen Mirren. 


Having spent eleven years in Barcelona he and his wife are now on the move again - back to Italy. 


Do not miss the opportunity to see these extraordinary paintings that have intrigued and captivated his clients from all over the world. 


May 2008, Issue Nº 5