Allgemene Zeitung
Nicole Weishut-Zenz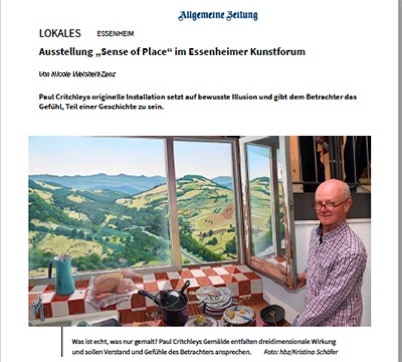 Austellung ,,Sense of Place" im Essenheimer Kunstforum
Von Nicole Weisheit-Zenz, photo : hbz/Kristina Schäfer




Paul Critchleys originelle Installation setzt auf bewusste Illusion und gibt dem Betrachter das Gefühl, Teil einer Geschichte zu sein.

Was ist echt, was nur gemalt? Paul Critchleys Gemälde entfalten dreidimensionale Wirkung und sollen Verstand und Gefühle des Betrachters ansprechen.


ESSENHEIM - Als ob sie in einem Wimmelbuch Seite für Seite aufblättern würden und mittendrin wären in Geschichten, die erzählt werden: so können sich Besucher im Essenheimer Kunstforum fühlen. Auf vier Etagen zeigt Paul Critchley seine originelle Raum-Installation "Sense of Place".

Besucher jeden Alters können viele Details entdecken in den plastischen Darstellungen von Objekten, die man in vielen Häusern findet. Bewusst hat sie der Künstler in Originalgröße dargestellt. Dreidimensionale Wirkung entfalten die Gemälde von Möbelstücken durch echte Elemente, die geschickt in die Werke integriert wurden. Nicht selten werden sie als Teil der Umgebung wahrgenommen – eine bewusste Illusion, um Verstand und Gefühle der Betrachter anzusprechen. Mittels Spiegeln werden sie selbst zum Teil der Inszenierung, zudem können sie Hand anlegen und Fenster oder Schranktüren öffnen.


Sehr genau nimmt es Paul Critchley mit Licht und Schatten, auch die Perspektiven sollen stimmen. Im Gespräch mit Eva Appel und Fred Engler gab er zur Vernissage Einblicke in sein Leben und Wirken: Jahrgang 1960, ist er in Großbritannien aufgewachsen; als Kunstlehrer hatten seine Eltern schon früh seine Neugier geweckt. Nach Jahren in Barcelona und andernorts lebt er mit seiner Frau nun in einem Haus in Italien. Der Titel "A Sense of Place" bezieht sich – neben dem physischen Ort – auf ein Gefühl der Zugehörigkeit, zu Familie und Freunden, zur Straßengemeinschaft oder Stadt. Szenen auf gut 100 Werken fügen sich zur visuellen Erzählung zusammen. Sehr aufwendig war der Aufbau der lange geplanten neuen Schau, die drei Wochen zu sehen ist.


Von der "Garderobe" aus führt der Weg durch Küche und Wohnzimmer, mit Einblicken in Kühlschrank oder riesigem Bücherstapel, durch Schlafzimmer und Bad. Zeitlos wirkt deren Einrichtung mit bewusst unmodernen Möbeln, im altmodischen Malstil dargestellt, erklärte Paul Critchley, der anregen möchte zum Hinterfragen: "Ich male nicht nur, was man sieht", beschrieb er, "sondern was sein könnte." Da wird die blaue Tischdecke auf "The Captain's Table" zum Ozean oder Fische schwimmen in einer Handtasche. Auch Hund, Katze, Enten und anderes Getier tummelt sich nun im Kunstforum. Wie sich einzelne Ansichten auf individuell gefertigten Formen zu einem riesigen Gesamtwerk verbinden, zeigt sich bei "Rauric 12".


Während der Künstler selbst eher das Mystische schätzt, mit geheimnisvoll wirkenden Treppen und Fluren, sind Besucher besonders fasziniert von idyllischen Szenen in kraftvollen Farben. Tiefblau ist der Himmel im letzten Licht des Tages, über spürbaren Strukturen alter Mauern. Fensterläden mit abblätterndem Lack scheinen ganz real zu sein, ähnlich der Lamellen, die Landschaften oder Sonnenlicht durchscheinen lassen. Als Triptychons gestaltet, bieten diese Bilder Blicke auf farbenprächtige Natur im Jahreslauf. Weitere Werke gewähren Einblicke in das Leben von anderen, die mitten im Alltag zu sehen sind: ein Paar am Küchentisch, liegende nackte Frauen, ein duschender Mann. Sich selbst hat Paul Critchley hierfür mit anatomischer Genauigkeit gemalt, verriet er. Atmosphäre soll wahrnehmbar werden beim Anschauen, zwar mitunter provokativ oder peinlich berührend, doch immer lebendig und äußerst humorvoll.
18 März 2019